Lori Michiel Fitness Trainers
What defines a Lori Michiel Fitness (LMF) trainer?
SAFETY. It is the highest priority at LMF. Trainers will make certain clients have enough room to move around, are taught correct form, that balance is controlled, pain is addressed, they are wearing proper footwear and are hydrated at all times. Trainers also must demonstrate they have the passion, skill and education necessary to work diligently with clients who have health challenges that limit their daily activities. They must possess a good sense of humor, be an excellent communicator, genuinely enthusiastic, well-groomed, and exhibit a professional attitude.
A physical or health-related educational background teaches the depth of knowledge necessary to understand the body's response to exercise for those with neurological (such as Alzheimer's), muscular skeletal (osteoarthritis) or post-rehab conditions (joint replacement, stroke recovery, etc.). If the instructor does not have formal education in kinesiology or exercise science, they must hold a fitness certification from a reputable fitness agency accredited by the National Commission for Certifying Agencies (NCCA). They must follow the NCCA protocols and standards requiring they also maintain science-based Continuing Educational Courses (CECs), CPR-AED training, and insurance.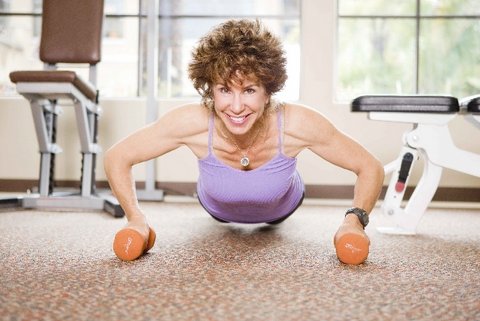 "When trainers are considered for the Lori Michiel Fitness team, it is important they are passionate and have the comprehensive knowledge necessary to be successful with clients experiencing chronic conditions. These are qualities that are not detailed with most personal trainer certification agencies."
– Lori Michiel on Senior Fitness Safety, AirTalk with Larry Mantle
Put Your Trust in Lori Michiel Fitness Trainers
Lori Michiel ensures her trainers are experienced with her clients' age group and chronic conditions such as Parkinson's disease and osteoporosis. She will only send quality, professional trainers that know when to progress or regress an exercise and are geared toward motivating clients to achieve results.
For the benefit of clients, LMF verifies instructors have a minimum of two years' success working with Baby Boomers and seniors. They must understand the guidelines of the American College of Sports Medicine (ACSM) and the American Heart Association (AHA) for both healthy and frail adults. Trainers are also required to follow the Scope of Practice (using IDEA Health & Fitness criteria) and provide specific exercise instruction based on the initial assessment conducted by Lori Michiel.
All trainers who wish to be considered for the LMF team are screened and vetted by Lori Michiel personally. She conducts a face-to-face interview and requires each applicant to submit documentation including current references. Once hired, instructors are individually coached in LMF practices.