Energy, exercise, health and well-being have been linked inextricably in my life ever since I can remember.
It Began in New York
My life began with a happy childhood full of fun family activities, lots of energy, good health and an outgoing personality in an idyllic community on Long Island. My parents divorced when I was 11 and, like many kids, I felt disconnected. My social circle changed, I didn't adapt well to the new normal and something was missing. My life seemed to slow to a crawl. I went through a rough patch of insecurity and low self-esteem through my tween years and high school, manifesting in binge eating and yo-yo dieting in search of more control and comfort.
My college years turned that around and forced me to focus on other things with a combination of a heavy class load, new friends who were bright and energetic, walking all over campus during the day and dancing with those same friends night after night. Exercise, socialization and solid friendships erased the negativity and I haven't looked back since. I "got" the connection. I found the positive. Energy breeds energy, which breeds happiness.
After college, I moved to Manhattan where I walked almost everywhere and jogged in Central Park with a friend most mornings. Running, for me, was freedom, release and exhilaration. I loved it so much that I trained for and completed many 10K races. I was hooked.
Then I Moved to Los Angeles
In 1980, I had an opportunity to move to Los Angeles for work. I knew I'd have to find and make new friendships, so I immediately sought out a running club to continue the joy I had found in running. New friends and wonderful activities naturally followed. I did miss a sense of family, however, so when the holidays approached, I joined a philanthropic organization that visited and entertained residents in assisted living communities.
When I spent time with the seniors, I was instantly reminded of the bond I shared with my own grandparents, the best storytellers on the planet. Their wisdom and unconditional love had been a huge steadying influence during my parents' divorce. Soon, I began volunteering for an hour after work at the Los Angeles Jewish Home. The delightful residents were irresistible. They had stories and they were thrilled to have company who listened to them. I was hooked again.
I noticed that if I cajoled them into dancing with me, or if we did group movement activities, everybody seemed brighter, more alert. I added a weekly music program to my visits. We sang, we danced, we did movement activities and even the chair-bound residents got into the act. They often pushed past their limitations, forgetting, in the joy of the moment, that they weren't Fred Astaire or Ginger Rogers stand-ins. The music of their youth took them back to their youth. Using songs from the popular musicals of the day, we traveled from Bali Hai to the streets of New York and everywhere in between. The hook was set deeper now.
Working With Seniors Captured My Heart – in a good way.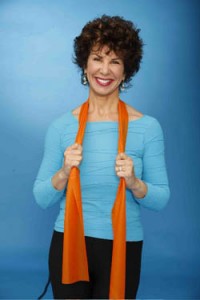 A very rewarding career in marketing in the 80s and 90s took me from printing companies, to production companies, to health care, to hospice agencies – full circle back to seniors. And, bam, somewhere along that career path, the hook started to tickle my imagination, my passion for seniors, my entrepreneurial itch and my professional skills simultaneously. I took a leap of faith and started what became one of the largest senior placement referral services in Southern California.
Enthusiasm and timing were key components of my next leap. While visiting assisted living communities in search of appropriate locations for my placement service, I saw too many idle and dispirited seniors. Exercise and activity were vital to my continued energy reserves and I was convinced that I could make a go of a company in which the primary goal was to keep seniors active physically, mentally and socially.
Right Place – Right Time – Right Idea
I attended conferences in the fitness and aging industries and was inspired. I am a boomer, and I knew I was in the right place at the right time with the right idea. I dove headfirst into education on physiology, diseases and conditions particularly associated with aging. I studied the effects of exercise on chronic conditions. I earned a certification as a personal trainer.
I Started Lori Michiel Fitness
I developed individual and group programs for what would become Lori Michiel Fitness.
Early on, I trained clients in my home and/or theirs. I hadn't considered small group classes until management at several assisted living communities sought my services for their residents. The residents wanted to reduce their risk of falling, move with less pain and have more energy or return to exercise after an injury.
Success came quickly. After my first year in business I received a call from a physician's office whose patient lived 25 miles away. Since it was impractical to train this person myself, I promised the doctor I would find the right trainer. It was apparent that it was time to build my own team: a team of passionate, smart and highly skilled trainers who would enjoy specializing in older adults. After one phone call, I found a trainer I had met at one of the fitness conferences. I chose to do the initial assessment of the client, I coached and instructed the trainer based on that assessment and then the trainer took over.
The Lori Method™ is Born
This is how The Lori Method™ formula was born in 2011. Trainers who wanted to expand their knowledge base and be more successful in their practice, sought me out to mentor them. The word-of-mouth demand grew. I created specialized courses in Parkinson's, Osteoporosis and other age-related and senior conditions so trainers could learn and apply new techniques to their business. My intuition and natural matchmaking skills serve me well when I'm pairing trainers with clients who live anywhere from the San Fernando Valley to Ventura and Orange County. I remain involved every step of the way.
I live The Lori Method™, and that's My Story and I'm sticking to it.