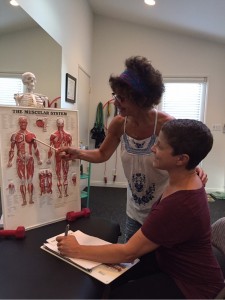 Older adults and seniors are the fastest growing segment of the population, and they are accustomed to a lifestyle that is carefree and comfortable. They are invested in their overall health, in a high quality of life and in being engaged with their peers and their surroundings. However, they are not immune to the aging process. Therefore, when they must modify their activity because of disease or injury, they seek a fun, caring and competent individual who understands their unique needs and will be their personal cheerleader for a custom exercise program.
The Pew Research Center notes roughly 10,000 Baby Boomers will turn 65 every day through 2030. Competition among and individual trainers has never been more challenging. It's not enough to simply offer fun sessions – that is the expectation – so how do you maintain a competitive edge? Today's clients are setting the bar higher and expect you to keep informed by offering quality programs and activities for fitness. Do you have experience working with Parkinson's disease, stroke patients or Alzheimer's disease?
Join us for a "Beyond the Training Norm – Training Special Populations" workshop.
These programs are designed to provide new levels of versatility and specialized skills into your current practice. General fitness courses give you the basics of anatomy and physiology, while the advanced level of training in these courses can help you develop your business model.
These workshops review theory and applications to enhance your skills with a mature population, including those who have neuromuscular and musculoskeletal conditions. Learn new techniques that are safe, fun and fresh; techniques that will enable you to confidently work with clients who have age-related conditions including:
Movement disorders (such as Parkinson's disease and MS)
Arthritis
Osteoarthritis
Osteoporosis
Cognitive impairment (dementia, Alzheimer's)
Stroke
Cardio-respiratory (a-fib)
Past specialized workshops for both new and experienced trainers have addressed a physical fitness curriculum of how to work with various disorders affecting seniors. We have also covered such topics as Parkinson's functional training, exercise application and communication. Always a primary concern, safety methods are focused on in each of our class modules.
Those who take our workshops will develop new skills that will help senior clients become more confident in their approach to exercise, improve their endurance and experience less pain which will enrich their lives.
Lori has worked with special populations for more than three decades. With evidence-based material and hands-on experience, she has developed proven strategies that will bring new value to trainers' skills.
Please return here for information on upcoming workshops or contact us to be added to our Trainers email list.
 "I am thankful for the training I received from Lori Michiel which expanded my knowledge of working with mature clients. I have been working with seniors for many years her information went beyond my basic knowledge taught to me by ISSA. I have a better grasp how to work with dementia clients more easily and those with other conditions in board and care homes."
 – Teri Zinn, ISSA CPT
"After graduating from the Missouri College's NASM program in personal training and corrective exercise, I did and internship with Diane Kruszynski. I wanted to learn more about working with special populations. The NASM curriculum only touched upon this subject. Diane taught her method which went into great depth. I learned techniques that were vital to working with all different types of conditions."
" I would not have succeeded as a personal trainer without my mentor. Working with her gave me the tools and the confidence I needed in developing my own training style. Diane and her unique training method was the major influence in the success of my career."
– Julia Rich, CPT, CES, PES