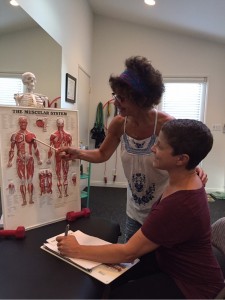 Older adults and seniors are the fastest growing segment of the population, and they are accustomed to a lifestyle that is carefree and comfortable. They are invested in their overall health, in a high quality of life and in being engaged with their peers and their surroundings. However, they are not entirely immune to the aging process. Therefore, when they must modify their activity because of disease or injury, they seek a fun, caring and competent individual who understands their unique needs and will be their personal cheerleader for a custom exercise program.
The Pew Research Center notes roughly 10,000 Baby Boomers will turn 65 every day through 2030. Competition among Senior Communities and individual training has never been more challenging. It's not enough to simply offer fun sessions – that is the expectation, so how do you maintain a competitive edge? Today's clients are setting the bar higher and expect you to keep informed by offering quality programs and activities for fitness.
Next Class
Join us as "Beyond the Training Norm – Training Special Populations" presents "Assessing and Correcting the Shoulder Joint and Shoulder Girdle" 
Presented by Lori Michiel, NASM-CPT and Kim Worthen, BS

Date: Saturday, January 19, 2019
Time: 10:00 a.m. to 2:00 p.m.
Location: Lori's West Hills Fitness Studio, 7474 Pomelo Drive, West Hills, CA 91304
Cost: Early-bird registration: $125.00 if registered and paid by January 12, 2019; $150.00 after January 12, 2019
Space is limited to a maximum of eight (8) participants.
Click here to download a registration form.
In this workshop, we will review the structure and articulations of the shoulder joint and shoulder girdle, stabilizing and mobilizing muscle groups that affect each joint, function of each joint and the working relationship between the two joints. You will learn postural deviations and common misuse injuries, and how they limit shoulder joint mobility. Finally, we will explore and address proper posture, and exercise techniques to restore shoulder mechanics and mobility.
You will leave this workshop with the tools and confidence needed to address and correct your clients' shoulder-related issues. We promise that you will understand mechanical advantages and disadvantages in movement, and have an assortment of strengthening, range of motion, and stretching exercises in your exercise arsenal.
Including bonus sessions:
"The CORE: Do and Do Not – Everything you need to know to coach your clients with confidence" Topics include:
• Understanding the difference between bracing and drawing in
• How to coach posture
• The proper way to perform a crunch
• The delicate consideration of the pelvic floor
• Remember the back!
"Here's To Remaining Vertical" Learn a few simple balance techniques for your clients with fragile bones and other conditions which render them a fall risk. These exercises will help improve your clients' stability without causing more pain.
Presenters
Lori Michiel, NASM-CPT, President and Founder of Lori Michiel Fitness, Inc. ™
Lori is a highly recognized certified personal trainer, skilled fitness expert and published professional. With over 45 years of experience assisting clients who suffer from chronic conditions such as arthritis and Parkinson's disease, are challenged by post-rehabilitation recovery, dementia or are simply committed to aging gracefully. Her keen sense of humor and sensitive approach make her a highly sought-after trainer and coach.
Kim Worthen, BS, Group Fitness Manager, Athletic Society West Valley
Kim graduated from UCLA with a degree in Kinesiology (the study of movement) and has been a dedicated and passionate member of the fitness industry for over 30 years. Kim has worked with all fitness levels and ages, but has found herself drawn to the senior population. Her experience with senior fitness ranges from leading group classes with a cardiovascular and strength emphasis, to chair stretch classes, to time spent with private clients with issues that range from a simple muscular/joint disorder to diabetes, fibromyalgia, Parkinson's disease or atrial fibrillation.
Please return here for information on upcoming workshops or contact us to be added to our Trainers email list.
 "I am thankful for the training I received from Lori Michiel which expanded my knowledge of working with mature clients. I have been working with seniors for many years her information went beyond my basic knowledge taught to me by ISSA. I have a better grasp how to work with dementia clients more easily and those with other conditions in board and care homes."
 – Teri Zinn, ISSA CPT
"After graduating from the Missouri College's NASM program in personal training and corrective exercise, I did and internship with Diane Kruszynski. I wanted to learn more about working with special populations. The NASM curriculum only touched upon this subject. Diane taught her method which went into great depth. I learned techniques that were vital to working with all different types of conditions."
" I would not have succeeded as a personal trainer without my mentor. Working with her gave me the tools and the confidence I needed in developing my own training style. Diane and her unique training method was the major influence in the success of my career."
– Julia Rich, CPT, CES, PES