On a Fitness Budget? We Have a Solution…
Have you ever wanted to start a fitness program, but weren't sure how to begin? Did you hesitate because you felt pain and were unsure of how to avoid injury? Maybe you've received a new diagnosis and need direction on which exercises you can and should be doing.
Have you gained weight and can't seem to lose those last 10 or 20 pounds? Is time or cost a factor? If so, our Fitness Tune-Up might be the answer!
Fitness Tune-Up: Customized, focused and motivating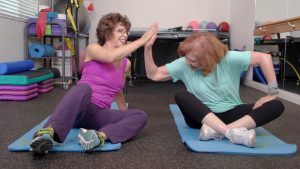 We'll concentrate on the results you desire, but have not been able to achieve on your own. Sessions begin with an initial assessment with Lori at Lori's West Hills Fitness Studio to determine your strengths and weaknesses so you no longer need to waste precious time figuring it out on your own or with an inexperienced trainer. After your first visit, you can continue your sessions at Lori's West Hills Fitness Studio state-of-the-art gym or in the comfort of your home via Skype. Throughout each session, you'll learn new exercises and routines that you can do between visits. The sessions, in addition to inspiring you and keeping you on track, will build your exercise repertoire, so that it is never boring. This type of workout can build accountability, self-esteem and self-efficacy.
Typically, our regular price for individual sessions can be more expensive compared to Fitness Tune-Up offered just twice a month. Each comprehensive session is a generous 60-minutes.
Your initial "baseline" assessment
Prior to your initial visit, you'll fill out a Health Fitness Questionnaire and PAR-Q. During your first visit, we'll review your responses and complete a physical assessment to determine your strengths and weaknesses, as well as your exercise likes and dislikes.
"Five years ago I became a widow at the age of 56 after 36 years of marriage. The loss of my husband was very difficult on me and I let myself go to the point of gaining over thirty pounds. 
I used to work out regularly and tried to get back into it but ended up pulling something in my left arm. The repetitive motion of the elliptical aggravated the arthritis in my right hip. To add insult to injury, my left foot developed metatarsal pain, making it difficult to just walk…" Click here to continue to read about this client's success
Do I need a Fitness Tune-Up?
Here are some things to ask yourself:
Do you know which movements/exercises need to be modified to progress on your own, to achieve your goals?
Has a recent injury curtailed your activity?
Have you recently been diagnosed with a chronic condition such as a back injury, pre-diabetes, osteoarthritis, osteoporosis or Parkinson's disease and are not sure what exercises will help or hinder your routine?
Are you on a limited budget?
Did you try personal training, but found the trainer did not fully understand your condition(s)?
Are your shoulders, hips or knees strong enough to reach down to pick things up off the floor without hurting?
Is there a right way to perform a squat, a basic function in life?
Do you have trouble remembering the exercises you were taught in physical therapy? Would you know how to proceed so you won't get injured again?
Are time and budget a consideration?
*Tune-up services ONLY apply if you make an initial appointment to be assessed by Lori Michiel at Lori's West Hills Fitness Studio. Call 818-620-1442 or fill out our brief contact form to get started today!