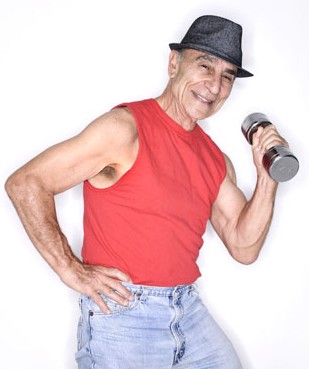 We've probably already chatted for a few minutes about yourself or a loved one. Asking questions provides important clues about abilities and function. If agreeable to moving forward with an assessment, you will receive an introductory packet including the Health Fitness Questionnaire; the PAR-Q and the Physician's Approval Letter. Completing these forms helps Lori Michiel Fitness design a proper plan of action that can only be accomplished by understanding a client's goals, risk factors and abilities through the three-dimensional view that an assessment provides.
"…a full assessment is something I take into consideration because without that valuable information I wouldn't know where to start."
– Lori Michiel on Senior Fitness Safety, AirTalk with Larry Mantle
Listen to full interview.
Paperwork Made Simple
If your written medical history responses based on the PAR-Q indicate we need to do further follow-up with your physician, this could delay your first workout with us. But we're in this for the long haul and your safety is our highest concern. Not only does this requirement follow professional protocol, but we can't create the safest and most effective program for you until this information is obtained. We won't let you start with our services–although we're as excited as you are to begin the program–until we're confident you can progress safely.
"…The respect and, yes, love you showed our family is very special to us and will not be forgotten."
Read more client experiences
It should take about 20 minutes to fill out your paperwork. It's fun and introspective and may fuel your thinking toward the goals and expectations that you have and that we can accomplish together. During our initial get-together and evaluation, we'll finish up any paperwork that is necessary and schedule your first workout session. Our thoroughness and safety record are highly respected. Your best interests and well-being are at the top of our agenda! We're so confident in being able to make a huge difference in your level of fitness and health that we believe this first session will be the beginning of a long-term relationship.
https://youtu.be/DEscj0RjFhY 
Let's Get Going – Workout not a Wipe-out
We'll schedule an initial assessment visit to your home. or you can visit us at Lori's West Hills Fitness Studio. For our online virtual training clients, we will conduct your assessment via Zoom. Many first-timers worry that they need to be in shape before coming to us. It's our job to make sure you progress slowly and meet you where your health and fitness needs are today. Your first session will be a gentle workout, not a wipe-out. Generally, we will not put you through a gauntlet of fitness tests during your initial visit. Fitness testing and your assessment are motivational tools that we'll use with you when appropriate to your conditioning level and program. By having you fill out the Health Fitness Questionnaire and carefully evaluating your answers and seeking additional counsel, if necessary, we are certain we can safely and accurately begin training.
It All Begins With a Consultation with Lori