West San Fernando Valley: Calabasas, Chatsworth, Encino, Northridge, Sherman Oaks, Tarzana, West Hills and Woodland Hills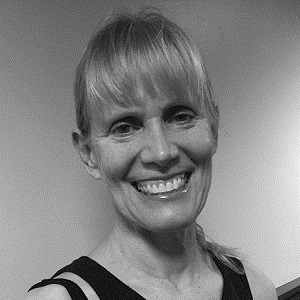 Kim, a native of Southern California, has been a dedicated and passionate member of the fitness industry for over 30 years. Her journey in this field was inspired through her competitive swimming career, that began at the age of six and continued until after she graduated college.
Kim attended UCLA, where she graduated with a Bachelor of Science degree in Kinesiology (the study of movement), and was a four-year All American Swimmer and American Record Holder. In addition to her academics and sports endeavors, Kim worked in the UCLA Women's Athletic Training Room with injured athletes, applying treatment modalities and therapeutic rehabilitation exercises. Concurrently, Kim was hired at the Pritikin Longevity Center in Santa Monica (a cardiac rehabilitation center), where she worked as an EKG Technician and Exercise Physiologist. Her eight years at the Longevity Center, a gratifying and fulfilling job, influenced both her work ethic and love of being of service.
Beginning at the Longevity center, and extending well past those years, Kim has worked with all fitness levels and ages, but has found herself drawn to the senior population. Her experience with senior fitness ranges from leading group classes with a cardiovascular and strength emphasis, to chair stretch classes, to time spent with private clients with issues that range from a simple muscular/joint disorder to diabetes, fibromyalgia, Parkinson's disease or atrial fibrillation.
Kim considers herself incredibly fortunate to have spent her adult life working in the career of her dreams: fitness management and instruction with group and private clients. As a Personal Trainer she was originally certified through NASM (National Academy of Sports Medicine) in 1996. Then, in 2000, she earned her certification as a Personal Pilates instructor. Kim finds nothing more rewarding than working with clients whose appreciation is heartfelt, and where time spent will enhance and elevate the quality of these clients' lives. Her personal vision: to make her clients fitness experience the best part of their day, every day.
It All Begins With a Consultation with Lori