I'm a trainer, teacher and passionate advocate for fitness. I specialize in helping active adults and seniors fulfill their physical potential and experience the joy of being healthier and leading a healthier life.
The Lori Story
Click here to read My Story, the tale of my roots, my move to California as a young adult where I further developed my passion for exercise and then coupled it with my love for teaching and senior community work.
The Launching of Lori Michiel Fitness
"Everyone, even those with infirmities, can participate on some level. The music and the exercise can uplift our mood and our emotions, freeing our thoughts for new concepts."
With the creation of Lori Michiel Fitness in 2006, I began a new chapter in my life: business owner! I am certified as a personal fitness trainer by the National Academy of Sports Medicine. I've earned numerous specialty certifications such as Senior Fitness Specialist and Arthritis Foundation Fitness Instructor.
 "If exercise came in a prescription form, it would be the most sought-after pill on the market."
I can't recall a time when I haven't been full of energy and enthusiasm. I like to think that my personality, high energy and inspiring nature rubs off on others. With the help my team, we have helped hundreds of clients regain strength and independence by being honest, friendly, encouraging and sensitive to our clients' needs.
 "I like to explore the most current, practical and safe ways for my clients to move. When research is released and I feel confident with the results, I apply it to my practices."
I'm always on the lookout for enjoyable ways to incorporate the latest in brain science with exercise. The evidence is there – combining brain and physical exercise at the same time is more effective than simply doing brain games on a computer. Over and over my clients report that as they improve in cognitive awareness, they feel more present and in tune. It's so rewarding when a client says to me, "I'm remembering names more easily now."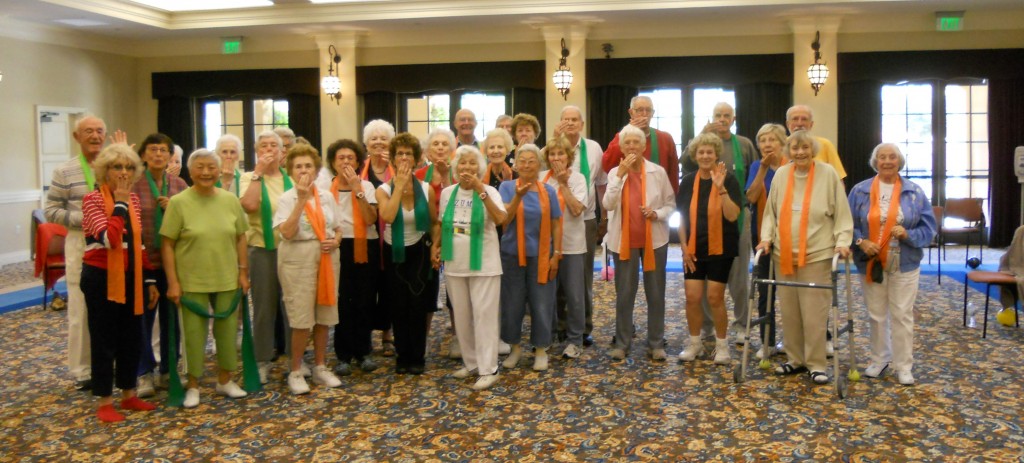 Lori's West Hills Fitness Studio is Born
I created The Lori Method™ in 2011, sharing my focused training techniques. Then, in 2013, I achieved my dream of opening a private fitness studio.
Speaking Engagements
I also give community presentations for seniors and I am available for speaking engagements for professionals serving seniors. Click here for the current topic list of health, fitness and aging.
"Lori, you and your husband are a great team, and your presentation yesterday was a lot of fun and very useful."
-Charlene Perrone, CSA-Certified Senior Advisor, SHARP Certified, CDSM Facilitator
Owner, Home Instead Senior Care for Santa Clarita and the Antelope Valleys
Lori Michiel's Biography
Click one of the links below for my bio:
Lori Michiel Biography – Short