I'm a trainer, teacher and passionate advocate for fitness. I specialize in helping active adults and seniors fulfill their physical potential and experience the joy of being healthier and leading a healthier life.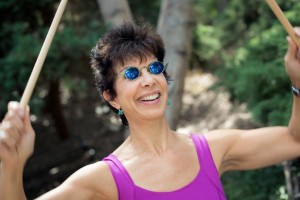 Growing Up Back East
Originally from New York, I followed a work opportunity to California in my twenties. I'd already discovered the joys of running 10K races in Manhattan and brought that enthusiasm for fitness with me. I joined a gym and made friends who enjoyed a healthy lifestyle.
Soon after arriving in Southern California I connected with seniors through an organization that entertained residents in assisted living communities. My link with seniors was so strong. I quit my marketing job in home health care and assisted in creating one of the largest senior referral services in California.
Click here to read more about Lori's history.
 "If exercise came in a prescription form, it would be the most sought-after pill on the market."
Launching of Lori Michiel Fitness
Through my passion and dedication to both seniors and health, I created Lori Michiel Fitness in 2006. I am a personal fitness trainer certified by the National Academy of Sports Medicine. Along the way, I've earned numerous specialty certifications including Senior Fitness Specialist, Arthritis Foundation Fitness Instructor, and Parkinson's Disease – A Perfect Balance Trainer and Back Mechanics Instructor. I also participate in annual Active Aging conferences, Medical Fitness courses and maintain essential industry Continuing Education Units (CEU's).
Whether it be after accident, post-surgery, or an absence from exercise, with the help my team, we have helped hundreds of clients recapture their strength and independence, by being honest, friendly, encouraging and sensitive to their needs.
"I like to explore the most current, practical and safe ways for my clients to move. When research is released, and I feel confident with the results, I apply it to my practices."
Specialized Services
I continually explore new and gratifying ways to incorporate the latest in brain science with exercise. Combining brain and physical exercise, brain science is proven to have the potential to slow disease progression in many age-related ailments. This also builds neuroplasticity more effectively than simply doing brain games on a computer.
I have devoted myself to working with people with neurodegenerative disorders (Parkinson's, dementia, Multiple Sclerosis,) who want to stave off the disease. These are complicated conditions that require a specialized skill set, which I have developed over time.
Lori's West Hills Fitness Studio
In addition to assessing and teaching training clients in their homes, I also offer personal training and small group classes (limit four) in my private fitness studio. Located in the west San Fernando Valley where clients can enjoy privacy, music, and use of senior-friendly, state-of-the-art equipment under the supervision and direction of a trainer with expertise in the fitness need of older adults.
Expertise
Lori is the go-to expert for senior fitness. She has been called upon by legal professionals to give expert testimony in depositions and court. She has done live interviews for staying fit in your senior years for Huffington Post Video Network and KPCC's AirTalk with Larry Mantle. Lori has also appeared online and written articles for print publications, and gives community lectures on safe, adaptive exercises in the home, balance and motivational training for the brain and more. Read more about Lori's latest adventures.

Speaking Engagements
Lori has created and presented seminars, lectures and workshops on a variety of topics in locations ranging from assisted living communities to professional conferences. Her audiences include:
Seniors and Their Families
Fitness Professionals including Certified Personal Trainers
Aging Life Care Professionals (Geriatric Care Managers)
Senior Care Providers (Home Caregivers, Senior Advocates)
Click here for the current list of health, fitness and aging presentations.
"Lori, you and your husband are a great team, and your presentation yesterday was a lot of fun and very useful."
-Charlene Perrone, CSA-Certified Senior Advisor, SHARP Certified, CDSM Facilitator
Owner, Home Instead Senior Care for Santa Clarita and the Antelope Valleys