Westside & South Bay: Brentwood, Manhattan Beach, Hermosa Beach, Redondo Beach, El Segundo, Hawthorne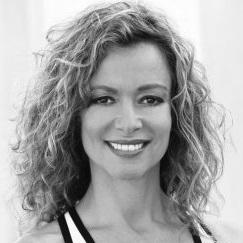 Deena believes in a "Fit Family" lifestyle and encourages parents and children to lead a healthy, active life. Giving her clients the tools they need to get in shape and stay in shape as a family is one of her greatest achievements.
Deena Russo is a certified personal trainer, cycling instructor and weight loss specialist in Southern California. Her clients are women and men of all ages from high school students to seniors. She has been involved in the fitness industry in New York and Los Angeles since the 90s.
She currently resides in Los Angeles, CA and provides training at a variety of locations including private homes and gyms. She enjoys taking clients on outdoor excursions where aerobic activity is mixed with resistance training for body sculpting. Deena also works in conjunction with holistic doctors, chiropractors and acupuncturists to assist her clients with physical limitations or special rehabilitation needs.
Her career in fitness began as a talk show host for a New York based television health show entitled "Creative Wellness. The show covered such topics as exercise, nutrition, self- empowerment and holistic healing. She has worked as a self-esteem coach and has led guided meditation and goal setting groups.
Deena is also a working mother. She understands the unique challenges of balancing family, career and a healthy lifestyle. She develops programs for her clients incorporating cardiovascular endurance, balanced nutrition, strength training, core and flexibility to achieve maximum weight loss and peak fitness.
If you want to enjoy your workouts and get the most out of them, she is an instructor that will make the experience fun and challenging and make you ready to take on anything.
It All Begins With a Consultation with Lori