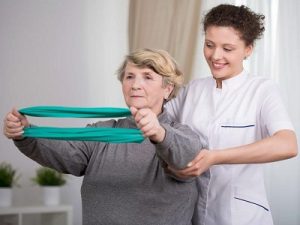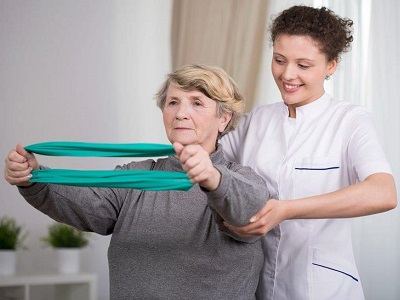 When I go on a trip, I always pack exercise bands in my suitcase. Since they are portable and light, they weigh next to nothing, and I don't have to worry that I will exceed the weight limit for my luggage. If I place them in my carry-on luggage and I have a layover during my trip, I pull out a set and use them at airport or wait until I get to my hotel and use them there.
History
The first recorded patent of bands was in 1895. It looked very similar to today's resistance band. It was a stretchy, handled, rope-type gadget invented in Switzerland by Gustav Gossweiler. A year later, in 1896, the United States caught on and patented their version.
This long piece of elastic was recommended as a portable and effective form of resistance (strength) training to use in place of heavy weights.  Today, the assortment of bands ranges from long and flat rubber to tubing styles (narrow bands with handles) to short versa loops (bands that are approximately six to seven inches in diameter and three inches wide).
Exercises
Whether you want to build muscle and get stronger, stretch after your workout or improve your balance, bands can be an added tool to achieving optimal results. Click here for a demonstration of how to exercise with bands.
Remember, as with any workout, whether it is for cardio or strength, consider your "perceived exertion". Your perceived exertion is your guide to determining how hard you can push yourself to produce results, safely. Don't give up trying because it is hard, but do stop if you hurt or have trouble breathing, or feel dizzy.
For more information about choosing and using the right band for you, check out Lori's website page on resistance bands.
Follow my YouTube videos for some fresh ideas that offer other types of safe exercise band training. We offer private training, including stretch sessions, program design and more. Visit our website at www.lorimichielfitness.com, join us on Facebook or contact us via email or call 818-620-1442. We see fitness differently!