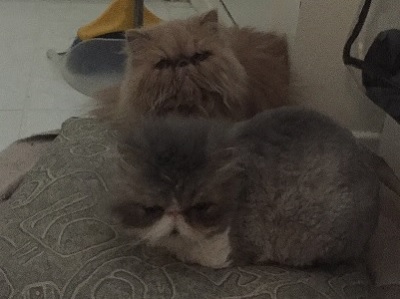 Connecting with our animals leaves me speechless.
It is early morning. I hear the songs the birds are humming and other voices of the neighborhood waking up around me as sunshine peaks through my bedroom window. I quietly ease out of my warm and toasty bed so as not to disturb my husband, carefully opening the bedroom door. I am greeted by the whining sounds from my beautiful cat, Ida. She is hungry, no doubt.
Ascending my stairs for my first glimpse of the outdoors, Heshie, my other Persian cat, sings in consort for her breakfast. I ask them to be patient and wait until I grab the newspaper off my driveway. Since English is their second language, they don't understand, so I feel obligated to respond to their calls by feeding them immediately. I love them so much and that is why I put them ahead of my own needs, although wishing I could heat up water for my morning cup of tea before the ritual begins.
Ida is fed first, keeping Heshie at a distance so he doesn't pounce on her. It's a game we play every morning. Once served, I can relax, but not before watching them gobble up their food in what seems like their "last supper".
They have no idea this is not a "normal" day. It's another day of maneuvering during Covid-19, social distancing from other human beings, attending or hosting Zoom calls and the restrictions (no hugs) that come along with each day. Lucky for Ida and Heshie they have no idea what's going on, nor do they care. They just want to be fed, sleep, play and eat again.
One of my clients, a youthful 94-year old, just adores my cats, especially Heshie. Before life changed, Alice would come to my home gym for her personal training sessions. Heshie would greet her at the door, follow her into the gym and plop himself at her feet. He'd purr so loud you'd think he was carrying on a conversation while giving advice on posture techniques and proper breathing.
Now that Zoom sessions are part of our life, Alice's first question when she joins the meeting is, "where's Heshie"? I dash out of the room to get Heshie and carry him into see Alice on my computer screen. Even though it's not the same as being here in person, it's proof, the impact one little animal can have on our soul. Our pets are our connection to what really matters, and I am glad I have mine to hold, cuddle, share and converse with when I need it most.
Take care of yourself and those dear to you. In the meantime, if you want to stay connected, you can Subscribe to my YouTube videos for some fresh ideas or poke around my website for more inspiration. We offer personal training that is safe and designed for challenges and strengths including stretch and flexibility sessions. Join us on Facebook, contact us via email or call 818-620-1442. We see fitness differently!