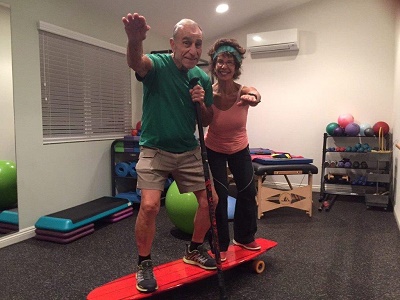 Inactivity doesn't have to be permanent. Active Aging Week encourages adults 50+ to reclaim their power.
Few people know about the International Council on Active Aging (ICAA). I was fortunate to learn about this novel organization in 2006, the same year I became a certified fitness trainer. I attended lectures on active aging at a time when very few trainers participated in training seniors. It was then that I learned about ICAA.
In celebration of Active Aging Week last year, an assisted living community invited me to teach a series of strength, stability, stretch and dance classes. The community had a nice showing (friends and family), but the general public was not aware of the meaning behind the program and how it was meant to connect the community across the "wellness dimension".
Linking participants with resources could have gone a long way with more planning. Communities in Albany, New York, according to ICAA, had "Coffee Connections" with participants socializing by telephone, featuring call-in bingo games. In-person activities included walking clubs, blood pressure assessments, outdoor fishing activities and giveaways. In Texas there were presentations and "Lunch and Learn" opportunities to gain experience about services in the local communities. Every year, host organizations can create low-to no-cost activities to encourage adults 50+ to try new experiences and savor the fun, friendship and joy of participation in physical, spiritual, social, emotional, intellectual, vocational and environmental wellness offerings.
To highlight their efforts, participating organizations have been honored by ICAA for their innovative programs and success. Recognizing their achievements make it fun, creating camaraderie and a fair competitive platform.
To find out more about Active Aging Week in your community, check social media and other resources to learn more: Facebook: Active Aging Week, www.ActiveAgingWeek.com, #activeagingweek
If you would like more information about how to get started with a specific program taught by my team and me to help you improve your strength, stability, confidence, balance and flexibility, please contact me by email or simply call 818-620-1442 for a consultation. You can also refer to our FAQ page aka Questions and Answers, follow us on Facebook or LinkedIn and check out our website at www.LoriMichielFitness for other important fitness information.
Source: ICAA The Journal on Active Aging 2022, Volume 21, Issue I www.icaa.cc