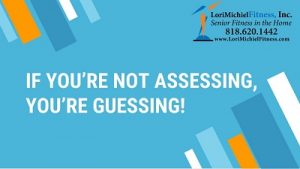 In August, Lori presented "If You're Not Assessing, You're Guessing" to the Aging Life Care Association (ALCA) via webinar.
This presentation focused on the absolute necessity of evaluating seniors' capabilities and limitations, in order to safely begin an exercise program. Sub-topics included fall prevention, measuring progress, when to involve a medical professional and assessment tools.
The webinar included videos of Lori's assessment demonstrations with clients.
Click here to review this and other presentation topics by Lori Michiel Fitness.
ALCA is formerly National Association of Professional Geriatric Care Managers, an organization of experts offering a holistic, client-centered caring for older adults.