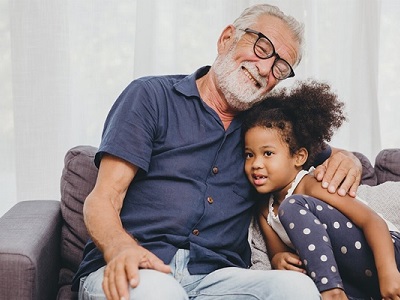 Whether it is Thanksgiving or another holiday, we miss the warmth of a hug. Though it is hard not to hug someone you care about during the pandemic, there are ways to do it right.
Hugging doesn't have to be off-limits. There are ways to do it without feeling apprehensive. Going without human touch can feel punishing, particularly people who live alone. Touching increases mood-lifting brain chemicals like dopamine, serotonin and oxytocin–the bonding hormone," says Maria DeLeon, a neurologist who was diagnosed with Parkinson's disease in 2015.
One way to hug safely is to form a "social bubble" with a few loved ones, close friends or clients who are following the pandemic behavioral limitations. Make a pact with them to be safe so you can become part of a group bubble where hugging is allowed.
If hugging is out of the question, try not to eliminate all in-person socializing. When my teenage granddaughter came by, she was adamant about where we needed to sit to distance ourselves from her. Inside the house was out of the question, so instead we did what most people do, we sat at opposite ends of a long table, each with masks, and spent two hours coloring and talking. It was a creative time for all.
Thanksgiving Celebration Pointers
We are probably thinking about how to make "another" holiday meaningful. If you do get together with family, even in a social bubble, here are some tips:
Keep the hug short. Turn your faces in opposite directions to avoid breathing on one another. If you hug a child, have them hug you around your waist, with their head turned away. Try hugging people from behind. You can even kiss them on their head while standing behind them. If you get emotional when you are about to hug and get tearful, it's better to save the hug for another visit. Tears can spread germs. And remember, unless you are eating or drinking, you still need to wear a mask/face covering.
Everyone can benefit from maintaining such interactions, even if they don't include real hugging. If a virtual, Zoom call is on your menu, this gives family the opportunity for virtual hugs. But please, stand up first and move closer to the screen because it is more engaging.
Happy Turkey Day! Be thankful for the little things this year, it matters more than you know.
For more tips and fun ways to feel more vibrant, reduce weight, relieve pain associated with arthritis, increase your balance, and feel better about yourself, contact us. You can also share this blog and our Exercise Snack Videos with friends or loved ones. follow us on Facebook or Instagram. Email us or call us at 818-620-1442 for a consultation.