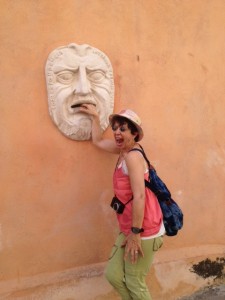 My first encounter with Parkinson's disease (PD) was when my dear Uncle Leon was diagnosed in 1996; he was 75-years-old. He was a prominent physician with Kaiser Permanente and our family physician, when I was growing up in New York. He was an excellent doctor, who was also gentle and sweet.
When our families lived back east, Uncle Leon used to make house calls, as most doctors did in those days. For instance, when I was very ill, he watched over me. He was also the one to remove my tonsils a few years later. I remember it as if it were yesterday!
Sometime in the late 80's, after I moved to Los Angeles, he and my aunt packed up and moved here to be close to much of the family, who made the trek cross country. It was wonderful being together again, especially during Thanksgiving. Uncle Leon was the master of carving the turkey, apron and all. I dearly miss those days.
When I became a physical fitness trainer for older adults, PD was one of the chronic conditions I wanted to know more about. I thought if I understood the disease more, I could help people who were newly diagnosed.Since PD is a progressive disease, I wanted to help others improve their symptoms and to slow the progression. I personally developed a program that my trainers and I teach. Some exercises are done seated and others are performed standing, each specifically designed to address Parkinson's movement challenges such as balance, flexibility, walking, posture, vocal range and facial expression. It's also motivational and fun to do. The research is there and has shown that people who participate in such programs improve their balance, mobility, activities of daily living and quality of life.
On September 18th I will be giving a presentation,"What's Good About Exercise if I have PD?" to a wonderful support group lead by John Mason, who is the President/Owner of Brightstar Care, home care and medical staffing in North Hollywood.
If you know anyone who would benefit by attending the lecture, please RSVP to Brightstar at 818-761-4700. In the meantime, if you are interested in any other programs for older adults and seniors, who want to feel healthier and fit, you can reach us at www.lorimichielfitness.com, email us, or call us at 818-620-1442.
For further information:
Parkinson's Disease Foundation
National Parkinson Foundation