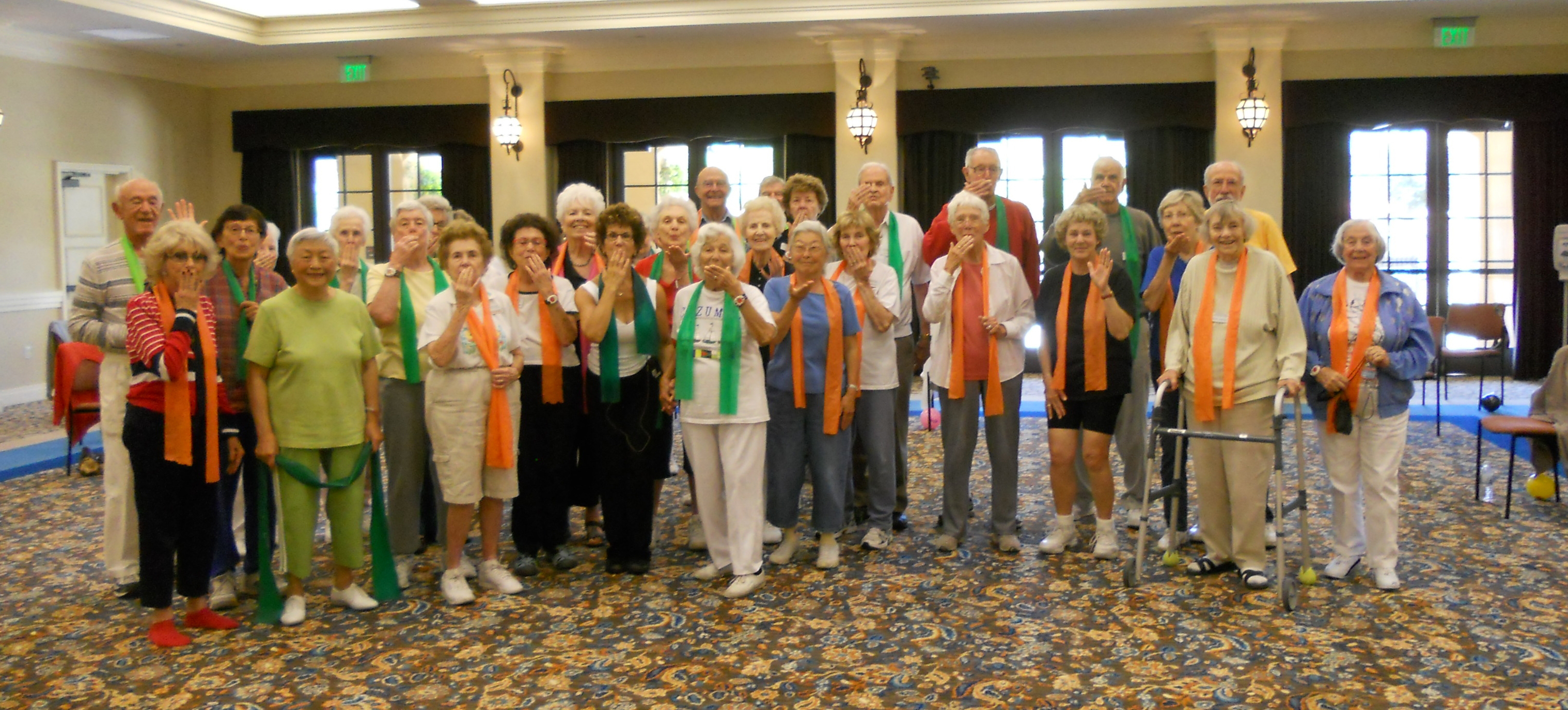 Each assisted living community has varying types of classes available for their residents. Also, Lori's West Hills Fitness Studio offers small classes and private sessions.
Lori's West Hills Fitness Studio
The beauty of this studio is in its simplicity, the guarantee is in the format, the motivation is in the music. Lori Michiel or her expert instructors provide the guidance as you move through cardio, strength, core balance and flexibility activities. The Bootcamp LITE classes are formatted so that each segment has a completely separate identity. Classes are small, suitable for all levels. Private training is also available. Call 818-620-1442 for an appointment today!
The Village at Northridge
Arthritis Foundation Exercise Program is designed specifically for people with arthritis (Osteoarthritis, Rheumatoid, Fibromyalgia, Osteoporosis, etc.), using activities to:
help increase joint flexibility and range of motion
help maintain muscle strength
Our classes are available to fit participants' fitness level – seated or standing. Participants in the class have experienced benefits such as increased functional ability, increased self-care behaviors, decreased pain and depression. This class is the only one open to the general public for a nominal fee.
Balanced Body: We all need to improve our balance and seniors are no exception. This supervised class will help seniors build balance in their bodies and help with fall prevention, muscle strength and endurance. With a balanced body comes muscle awareness. Muscle strength and endurance training is taught through short, repetitive routines. The repetition of the exercises and movements help strengthen muscles that have become inactive. This class is also presented at The Village at Sherman Oaks.
The Village at Sherman Oaks
Fun Fitness Mix: Inspired by seated yoga, Tai Chi, dance and Pilates. This full body, low impact, chair workout is designed for seniors of all levels of mobility and awareness. In this class, students are led through a series of easy-to-follow, low impact routines. Each routine can be performed in a chair, while more advanced moves can be practiced with a walker or standing up. The program takes each participant through every muscle group of their body, with simple yet challenging exercises to improve eye/hand coordination, bone/muscle strength, flexibility, circulation, balance and, most importantly, help find joy in their bodies.
Strong Bones, Happy Body: This class was developed for those who prefer a straightforward, low intensity and low impact session. Exercises in this class are designed to increase lean muscle mass, strengthening joints, improving posture, building strong bones, improving joint range of motion, maintaining balance and stability, improving self-confidence and enhancing quality of life. Modifications (seated) and progressions (standing) are key to making this class safe and always fun!
Balanced Body: See description above at The Village at Northridge.
Brookdale Chatsworth
Strong Bones Happy Body: See description above at The Village at Sherman Oaks.
Belmont Village – Hollywood Heights AND Meadowbrook Senior Living
Senior Motion and Strength: This fun and eclectic class set to music from the 50's and 60's is ideal for individuals with mild to moderate cognitive impairment and/or are physically deconditioned. It integrates methods directly from our Arthritis Foundation Exercise Program class along with a combination of low intensity, low impact and relaxation techniques. The goal is to improve functional strength and reduce injury. All exercises are seated.
The Village Gardens, Continuing Care Retirement Community, a Front Porch Property
Aqua Fitness: These classes from Lori Michiel Fitness are developed for seniors of all abilities, taking into consideration that clients may have one or more disorders such as various kinds of arthritis, auto-immune diseases, recovery from injury/replacement surgery. Aqua fitness can help clients gain more flexibility and gain core strength. All Lori Michiel Fitness Aqua Instructors are Certified by the Arthritis Foundation.
This class is not open to the public.
Sorrento Villas Senior Apartments
Strong Bones, Happy Body: See description above at The Village at Sherman Oaks.
Class is open to residents only.
Weekly Group Class Calendar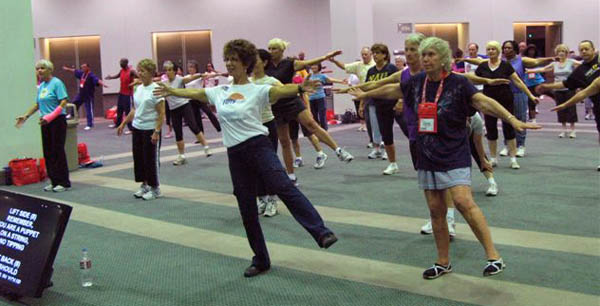 *Please note that the classes on Mondays and Fridays at The Village at Northridge are open to the public. All of the other classes are reserved for residents of the listed assisted living community only.
Monday
10:00 a.m.  The Village at Sherman Oaks
3:00 p.m.  The Village at Northridge (open to the public)
Arthritis Foundation Exercise Class

Tuesday
9:30 a.m. Brookdale Chatsworth

Wednesday
10:00 a.m.  The Village at Sherman Oaks
11:30 a.m. The Village at Northridge
Note: Fall Prevention Class
1:30 p.m.  Belmont Village – Hollywood Heights
Thursday
9:30 a.m.  Meadowbrook Senior Living in Agoura Hills
2:30 p.m. Sorrento Villas Senior Apartments
Friday
10:00 a.m. The Village at Sherman Oaks
10:45 a.m.  The Village at Northridge (open to the public)
Arthritis Foundation Exercise Class