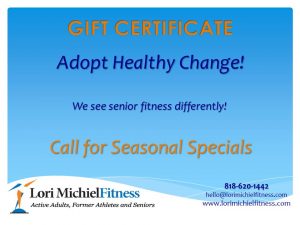 Do you know someone who would like to:
• Increase their energy?
• Lower their risk of diabetes?
• Lower their blood pressure naturally?
• Improve their posture or balance?
• Get a full, restful night's sleep?
Give your family member or loved one the gift of health. Lori Michiel Fitness' personal trainers are at your service. Certificates are for a one-time initial consultation, personally with Lori Michiel. Click here to find out more about the first meeting. Based on this assessment, Lori will create a personalized plan for future fitness.
For new clients only.
Call us at 818-620-1442, send us an email, or fill out the form on our contact page to get your certificate today.
A portion of the proceeds from the sale of the gift certificate will be donated to MAPS Charities.