South Bay: Carson, El Segundo, Gardena, Hermosa Beach, Manhattan Beach, Marina del Rey, Palos Verdes Estates, Rancho Palos Verdes, Redondo Beach, Rolling Hills, Torrance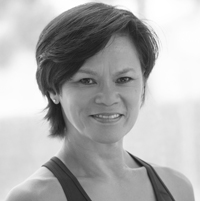 Since 1996, Donna has been instructing group exercise and embracing the different modalities
of fitness.
Her journey began more than 20 years ago. Joining the local gym, she found the only mode of exercise that would be easy on her joints (due to excessive weight gain after two pregnancies) was water aerobics. The forgiving properties of the water allowed her to participate in a cardio workout without the jarring impact of a land-based class and strength train using only the resistance of the water, while keeping her cool and feeling weightless. With the change came motivation, confidence and the desire to share a healthy and fit lifestyle with others.
Whether she is training privately or teaching group fitness aqua aerobics on the pool deck, leading an invigorating journey in a cycle studio or guiding a challenging yet gentle trip in the yoga lounge, she endeavors to impart upon each participant a sense of energized accomplishment at the end of each session. She approaches each class and client, hoping for everyone to leave empowered and fulfilled.
It All Begins With a Consultation with Lori