South Orange County: Aliso Viejo, Coto de Caza, Foothill Ranch, Ladera Ranch, Laguna Hills, Laguna Woods, Lake Forest, Mission Viejo, Rancho Santa Margarita, Trabuco Canyon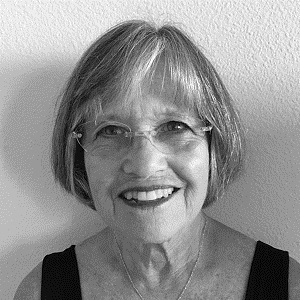 Joan is a Certified Group Fitness Instructor and is certified as a Personal Trainer and Senior Fitness Instructor through the International Fitness Association. She has an extensive background with both personal and professional experience and education in medicine, anatomy and physiology–especially changes that occur with age.
Joan's passion is improving others' quality of life by promoting and contributing to their more healthy and fit lifestyle. Although her clients have ranged in age from 15 to 85, her specialty is senior fitness as her exercises focus on improving strength, flexibility and balance. These disciplines help prevent falls, improve and maintain independent functioning and promote and contribute to a more healthy and fit quality of life for her clients.
After several years of employment as a school and Clinical Psychologist back east, a move to California nearly 20 years ago led to a more leisurely lifestyle and a more fit and health-conscious environment and caused a transition from skiing, spinning, swimming and other sport activities to strength training and aerobics in Jazzercise classes. Joan educated herself with classes in exercise and physiology of aging through the Emeritus Program at Saddleback College.
Her natural athletic abilities and advanced fitness level, subsequent fitness training, intense devotion toward making a positive impact on people's lives and experience, coupled with her education and expertise working with people of all ages, resulted in a modification of her professional goals and ambitions from psychologist to personal trainer. Although trained as a Jazzercise instructor, she chose to become a personal trainer to maximize her training and education to improve fitness and a healthier lifestyle in individual clients and experience the fulfillment of contributing to their progress and success in achieving and maintaining their fitness goals.
Joan has over 15 years of experience with senior fitness classes and activities, is trained in First Aid and certified in CPR.
It All Begins With a Consultation with Lori